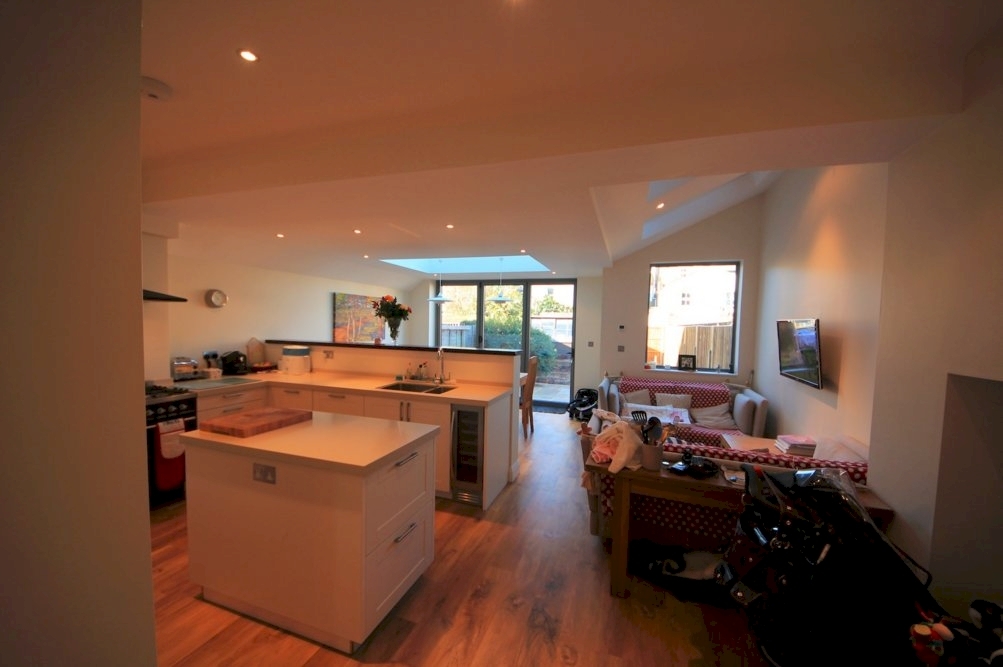 House Extension of a Terraced House in Richmond, London
Our valued clients in Richmond, London, approached us with the desire to enlarge their kitchen and make better use of the space in their terraced house. After careful planning and discussion, we proposed a rear kitchen extension that would provide them with the additional space they needed.
We began the project by preparing the site, including obtaining all necessary permits and permits. We then proceeded to construct the extension, which included a larger kitchen, a new utility room, and a separate toilet. Throughout the construction process, we worked closely with the homeowners to ensure that the design and layout of the extension met their specific needs and preferences.
One of the key features of the extension is the large bi-fold doors that were added to the ground area, which open up the house to a lot of natural light. This not only makes the space feel brighter and more welcoming, but it also helps to create a seamless connection between the indoor and outdoor spaces.
In addition to the bi-fold doors, we also installed underfloor heating throughout the extension, which provides a comfortable and efficient way to heat the space.
Once the construction was completed, the homeowners were thrilled with the result. They now have a larger, more functional kitchen that is perfect for entertaining and everyday living. The addition of the utility room and toilet also greatly improved the functionality of the house.
Overall, we were very pleased with the outcome of the project and so were our clients. They were happy with the result and we were proud to have delivered a high-quality project that exceeded their expectations.
Ready to Elevate Your Space? Request a Free Quote from Our Experts!
If you are interested in a free consultation and quotation, simply leave us a message or give us a call. Our team of experts is here to help you transform your home.