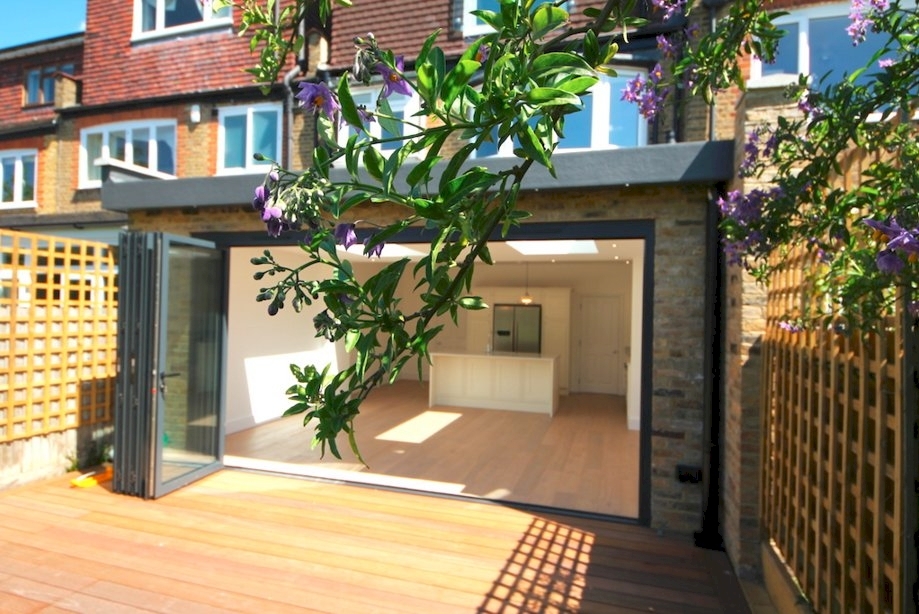 Rear Extension with GRP Flat Roof, South West London
Our team at Dali Pro Services was tasked with transforming a terraced house in a residential area of East Sheen, South West London. The project included a complete home renovation, including a rear kitchen extension with a flat roof, a loft conversion, and a new contemporary bathroom.
The rear kitchen extension was designed to add more living space to the ground floor and included a flat roof constructed with GRP (glass-reinforced plastic) material. This type of roofing is known for its durability, resistance to weathering and UV rays, and minimal maintenance requirements. The extension also included a utility room and an open-plan kitchen with a dining area.
The loft conversion involved adding a new roof and creating a master bedroom with an en-suite bathroom, a study, and a dressing room on the second floor. A rear dormer was added with a Juliet balcony and glass balustrade, and a Velux window was installed in the front.
The first floor also received a new contemporary bathroom with a freestanding bath, providing the family with more comfort and luxury. The ground floor now features a front formal reception room, a toilet, a utility room, and an open-plan kitchen and dining area. The project was a great success and our clients were thrilled with the end result.
Ready to Elevate Your Space? Request a Free Quote from Our Experts!
If you are interested in a free consultation and quotation, simply leave us a message or give us a call. Our team of experts is here to help you transform your home.