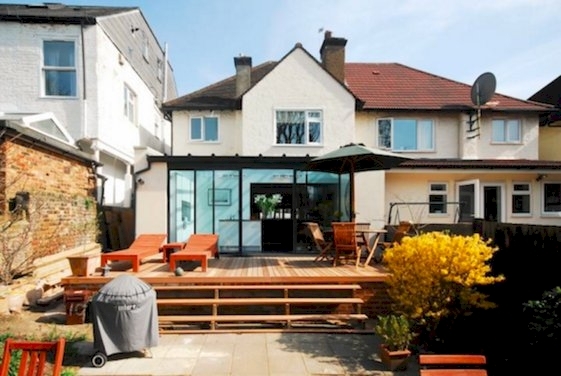 Kitchen Extension in Acton, London
Our clients in Acton, London approached us with the desire to expand their existing kitchen and create a more functional living space. We were excited to take on the project and work with the homeowners to design and construct an extension that met their needs and exceeded their expectations.
The project began with the construction of a rear kitchen extension. We worked closely with the homeowners to design a space that would be both functional and stylish, with plenty of natural light and an open-plan layout. The finished kitchen features a modern design with clean lines and a neutral color palette.
To complement the new extension, we also constructed a garden decking area. The decking was designed to add a modern and contemporary look to the property and provide a seamless transition between the indoor and outdoor living spaces. The homeowners can now enjoy the beautiful garden while still being connected to the kitchen.
Throughout the project, we focused on creating a high-quality and functional living space that would meet the homeowners' needs and exceed their expectations. The finished result is a beautifully transformed home that is full of natural light and has a cohesive and stylish design. The homeowners were thrilled with the result, and we were proud to deliver a high-quality project that exceeded their expectations.
Ready to Elevate Your Space? Request a Free Quote from Our Experts!
If you are interested in a free consultation and quotation, simply leave us a message or give us a call. Our team of experts is here to help you transform your home.